Enrichment Academy meets on Tuesdays at

Faith Baptist Church

109 Tanglewood Drive

North Little Rock, Arkansas

Enter the church lot from Tanglewood Drive.
Enter the gym at the flag pole entrance.

Please do not contact the church with questions regarding EA.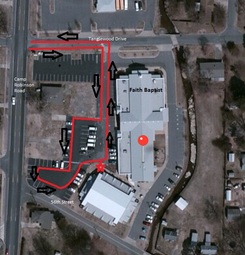 Important Information on how, when, & where to enter the building:

Arrival & Dismissal Times
DROP OFF 9:00 a.m. - 9:15 a.m. Flag Pole Entrance
ASSEMBLY 9:15 a.m. - 9:30 a.m. Gym
CLASSES 9:30 a.m.
PICK UP 1:40 p.m. - 2:00 p.m. Remain in Vehicle.
If your student cannot safely enter and exit the vehicle alone (open/close car door and buckle him/herself in), please park in lot and walk up to flag pole to drop off or pick him/her up so as not to delay others.



Morning Drop-Off
Cue up from Tanglewood Drive entrance.
Enter building at flag pole entrance.
All K-6 children must be signed in by parent.
7-12 Students may sign in themselves and siblings.
Parents attending Assembly should park in the church lot.
Afternoon Pick-Up
Remain in vehicle and cue up from Tanglewood Drive entrance.
Do NOT get out of your vehicle while in pick up line.
Children will be notified of your arrival and brought to your vehicle.
Follow the arrows when leaving the facility.
Parents not cueing up in vehicles must park in lot and wait outside under the flag pole.
Please DO NOT park & leave your vehicle in the pick-up lane.

PLEASE do not park and socialize in the drop-off or pick-up lane. If you need to speak with a friend please do so in the parking lot. This causes congestion, unnecessary delay, and is unsafe.

---
Late Pick-Up
Children are expected to be picked up between 1:40 p.m.-2:00 p.m.
Please have a plan for your child if you are running late.
Students not picked up by 2:00 p.m. will be charged a late fee of $2.00 per minute. Due @ pick up.
We are sensitive and understanding to emergency situations, please let us know if an emergency occurs.

Need to speak with Director?
Director is available in the mornings after assembly.
If you have questions or concerns, please speak with the director.
Director is not available to talk or meet with parents until after the last student has been picked up. While we value speaking with parents; the main priority in the afternoon is getting students safely returned to parents.